Edit: j'ai traduit mon entrée en français (plus bas), et je vais tâcher de faire ça pour mes entrées couture.
I made the piece number 6 from Drape Drape 2 yesterday in a gorgeous fuchsia jersey (most likely cotton but maybe with a little silk? soo soft and with a beautiful shine) I bought at
Tissumarket
.
I was a bit short on fabric because I didn't really plan on making this item when I went to the shop. I originally planned to make one of the long sleeved dress but they have a definite 80s look to them (helloo batwing sleeves) and I think fuchsia would probably have been too much.
I got away with it by laying the long front piece sideways across the fabric (it doesn't follow the grain line anyway so it wasn't an issue).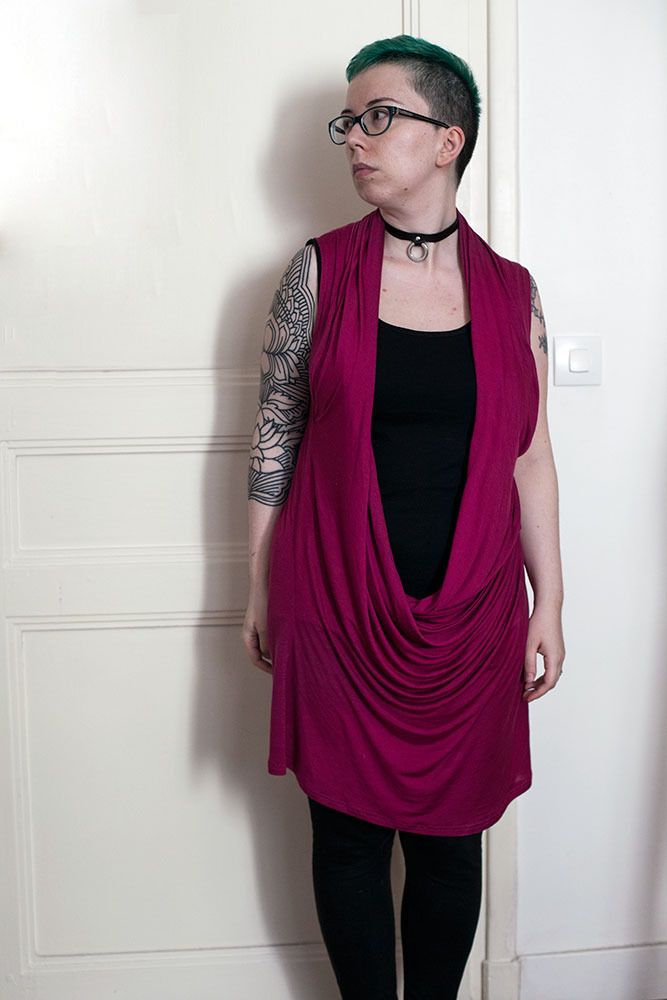 Sewing this requires a certain leap of faith. There's definitely a moment where it feels you're sewing the pieces together on the wrong side, but you have to trust the pattern. Here's what it looks like, for the record:
I used an watercolour pencil to write all of the notches and markings and what they referred to on my fabric.
It's a very nice finished garment! It's quite baggy around the thighs, I'm not sure whether it bothers me or not. Probably not. I'll take it in if I change my mind. I read on a blog that it wasn't flattering from the side, and it is quite true! I definitely look like I have a super saggy fuchsia belly. I'll let you know when I start caring about garments being flattering, though. :D
I took a portrait too, it had been a while. It's a bit blurry, I couldn't be bothered to do this for more than 5 minutes. I still quite like it: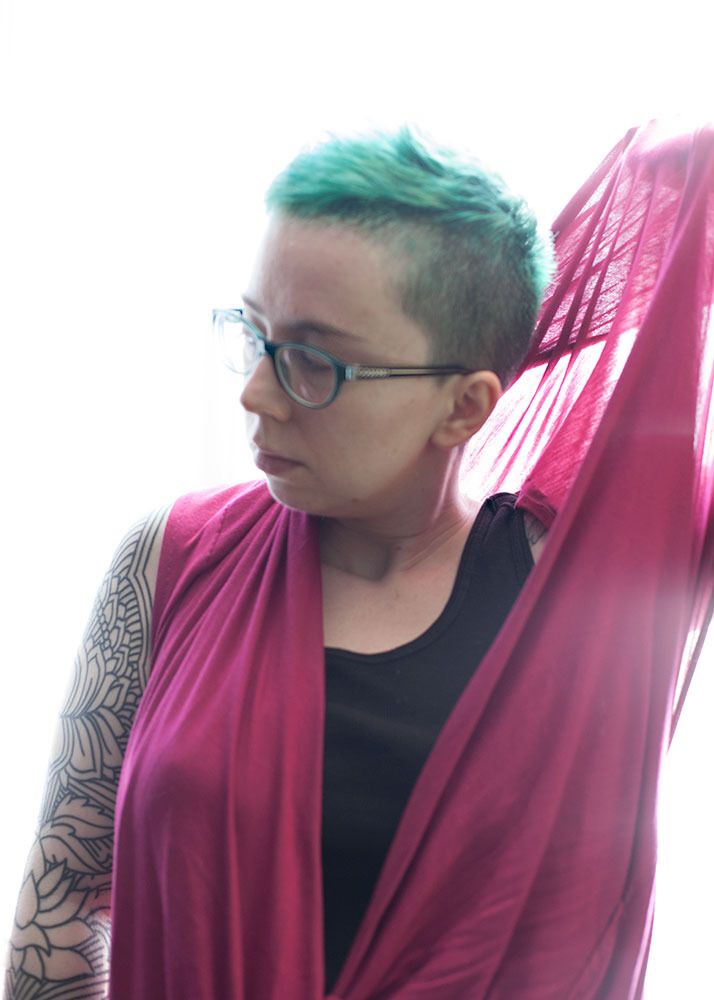 J'ai réalisé le modèle numéro 6 issu de Drape Drape 2 hier, dans un superbe jersey fuchsia (probablement coton, mais peut-être avec un peu de soie? Il est telllllement doux avec un beau brillant) que j'ai acheté chez
Tissumarket
.

J'étais un peu juste en tissus parce que je n'avais pas prévu de faire cette pièce au départ, en allant à la boutique. Je voulais faire une des robes manches longues du livre, mais elles ont toutes les deux un côté années 80 (manches chauves souris bonjour!) et je pense que ça aurait été un peu too much en fuchsia.

Je me suis dépêtrée en casant la pièce du devant, qui est très longue et de forme bizarre, en travers du tissus, et non parallèle au bord (elle ne suit pas le droit fil donc ça n'était pas un problème).

Il faut vraiment faire confiance au patron pour coudre ceci. Il y a clairement un moment où j'ai eu l'impression d'assembler les pièces à l'envers, avec la couture du mauvais côté, mais il faut y croire! J'ai mis une petite photo du patron plus haut pour vous donner une idée.

J'ai utilisé un crayon aquarellable pour identifier toutes les encoches et savoir à quoi elles correspondaient (il y en a tellement!)

Le vêtement fini est très joli. Il est assez ample au niveau des cuisses, je ne sais pas trop si ça me dérange. Je pense que non. Je retoucherai si je change d'avis. J'avais lu sur un blog que cette tunique n'était pas très flatteuse de profil et c'est assez vrai! On dirait que j'ai un bidon fuchsia qui dégringole. Bon, le jour où j'en aurai quelque chose à faire de porter des vêtements pas flatteurs, je vous ferai signe. :D

J'ai pris un portrait aussi, ça faisait un bail. Il est un peu flou, mais je n'ai pas eu la patience de poser plus de 5 min. Je l'aime bien.